Fantastic Features: Spas, Ledges, Waterfalls, and More
September 26, 2022
If you are in the market for a fiberglass swimming pool from Barrier Reef, you're in for a treat! Barrier Reef offers a wide selection of pool designs, most of which can be equipped with amazing additional options to delight and astound any pool lover. Available features include integrated and add-on spas, underwater ledges for lounging or tanning, water features such as spillways and waterfalls, special decking features like customizable tile and paver coping options, and integral pool lighting. From spas to waterfalls, there's something for everyone. Keep reading to learn more about these fantastic features!
SPAS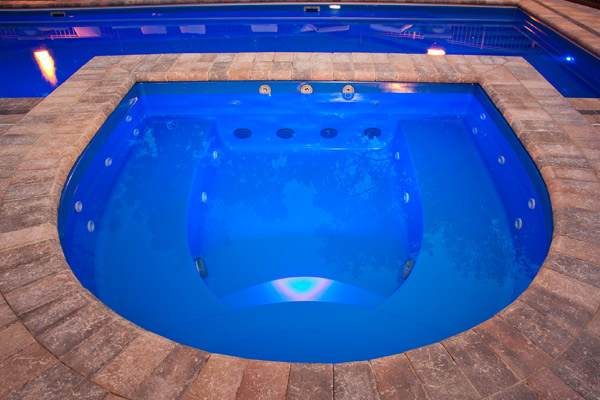 INTEGRATED SPAS
Nothing gives your backyard pool space the feel and flavor of a luxury resort like a built-in spa. Barrier Reef offers a complete line of matching fiberglass spas in every Shimmer color. Relax, unwind, and luxuriate in one of our oval, horseshoe, or square spas. Close your eyes and let powerful jets of warm water and millions of soothing bubbles massage your cares away.
Alongside swimming pools, in-ground fiberglass spas are equally therapeutic for soothing sore muscles, unwinding, and relaxing after a swim. With an attached swimming pool/spa combo, you can additionally enjoy the benefits of muscle warm-up and cool-down cycles by moving back and forth from swimming pool to spa in succession. If it's just warm water and relaxing bubbles you crave, a stand-alone fiberglass spa might be just right for you!
STAND-ALONE SPAS
As mentioned above, Barrier Reef spas can also be installed separately as stand-alone units. Our professionals install fiberglass spas so they can tap into existing water circulation systems and utilities. Our one-piece fiberglass spas are the perfect addition to any backyard and are the height of luxury.
If your property is limited in size and cannot support a larger pool, simply install one of our spa designs (the Cube Spa, Oval Spa, Two Part Resort Spa, Horseshoe Spa, or the Capri Spa) as a stand-alone option. With so many designs and nine different colors to choose from, making the perfect choice for your needs is easy.
LEDGES
LOUNGING LEDGES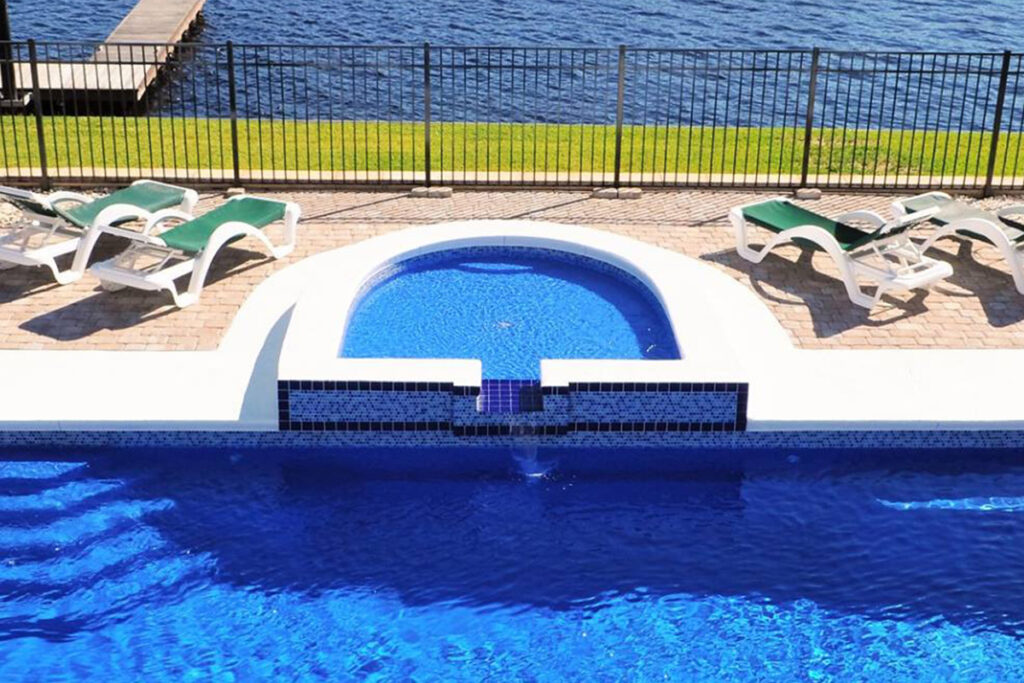 Some people ask "what is a lounging ledge" or "what is a tanning deck". In both cases, the answer is the same. It is a purpose-designed area, usually located along the edge or at one end of the pool, with a very high floor that creates a shallow area where swimmers can relax and soak up the sun.
Underwater lounging ledges and lounging pads (or "decks") are now becoming increasingly popular in custom-built backyard pools. Although once exclusive to high-end hotels and resorts pools, underwater ledges are now accessible to homeowners. Pool Lounge ledges provide the perfect place to relax in the water while avoiding the deep end.
A tanning shelf goes by many different names including a Baja shelf, sun shelf, or even a tanning ledge. Lounging ledges and lounger decks are often called tanning ledges because they are so perfect for tanning. Keep your cool while lounging and tanning near the pool, even when the sun is blazing. Being only partially in the water, allows you to enjoy both the refreshing water and warm sun. Relax in the water without having to change into your swimsuit, or fuss with a raft or pool float.
Due to its shallow depth, a lounging ledge or lounger pad is also an excellent area for small children, a family pet, or someone who is a less-than-strong swimmer to safely cool off on a hot summer day. A lounging shelf also allows you to relax partially in your pool on a chilly day, or early in the morning before the deeper end of the pool has a chance to warm up.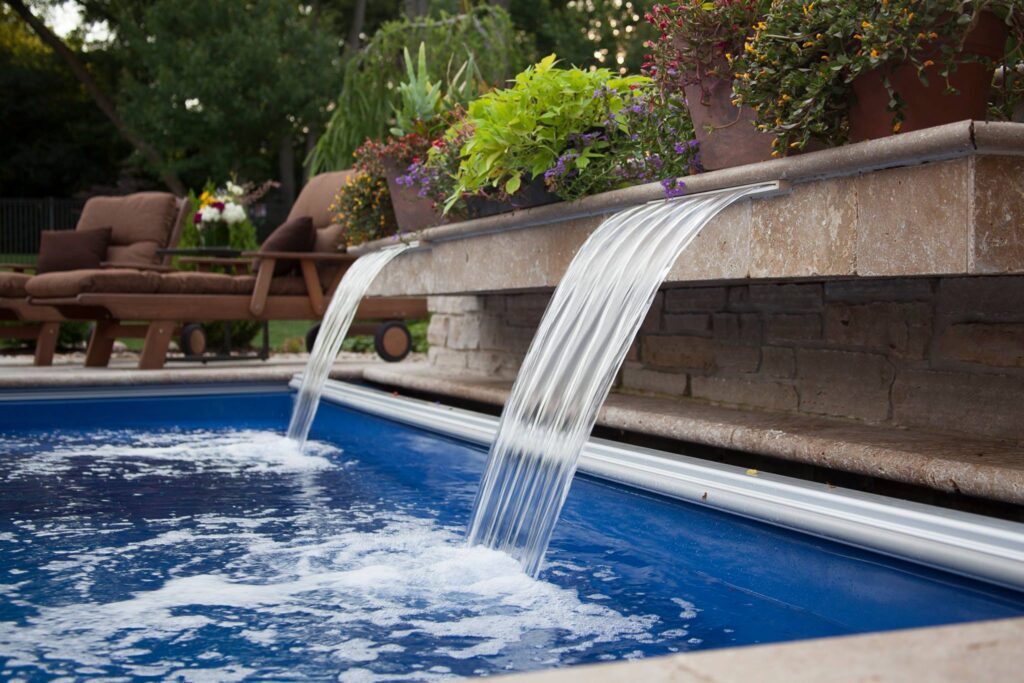 WATERFALLS
Waterfalls are another great way to add an additional lively and relaxing visual and auditory feature to your pool. Large and small rock features are a great way to accent your pool. Also, waterfalls that draw their power from your main pool pump. They are an economical way to spice up your backyard living space in a classic and attractive way.
If your pool plan includes an integral spa, you're in luck! Its spillway—an open section of the spa dam wall through which water overflows to the pool below—can also perform double duty as a lovely water feature.
The Horse Shoe, Oval, and Square Spa models are all available in two options. One option includes a cleverly-designed overflow opening. By positioning such a spa directly adjacent to your swimming pool, you can cascade water from the spa into your pool to create stunning waterfall effects. Or you can use the same feature to allow your spa's overflow to spill into an artificial stream, catch basin, or fountain feature.
The spa's dam wall can also serve as a unique element of a spillway water feature. In an approach sometimes called a "weeping" spa, the façade is organized in a step-stone or graduated arrangement. This configuration allows the spa water to slowly travel over several levels down to the pool, producing a waterfall effect.
COPING
Coping is a creative feature that allows versatility in the look of your fiberglass pool at water's edge. Pool coping is created by adding pavers, stone, or poured concrete around the pool's edge according to a pre-envisioned design. It adds a unique appeal to your pool's appearance.
Coping is installed over the top of the pool shell's "bond beam" where the pool structure meets the surrounding deck. Typically, in a roughly 12-inch swath around the perimeter of the pool. It will also include the integral spa, if the pool is so equipped. The installed coping typically extends one to one-and-a-half inches over the water's surface, creating a small lip or overhang.
Architects and landscape architects often refer to this coping border as the pool's "edge treatment" or veritable "picture frame". It enhances and sets off the overall pool appearance by design. Coping additionally helps maintain the pool's structural integrity, boosting swimmer safety and comfort while enhancing the pool's visual appeal.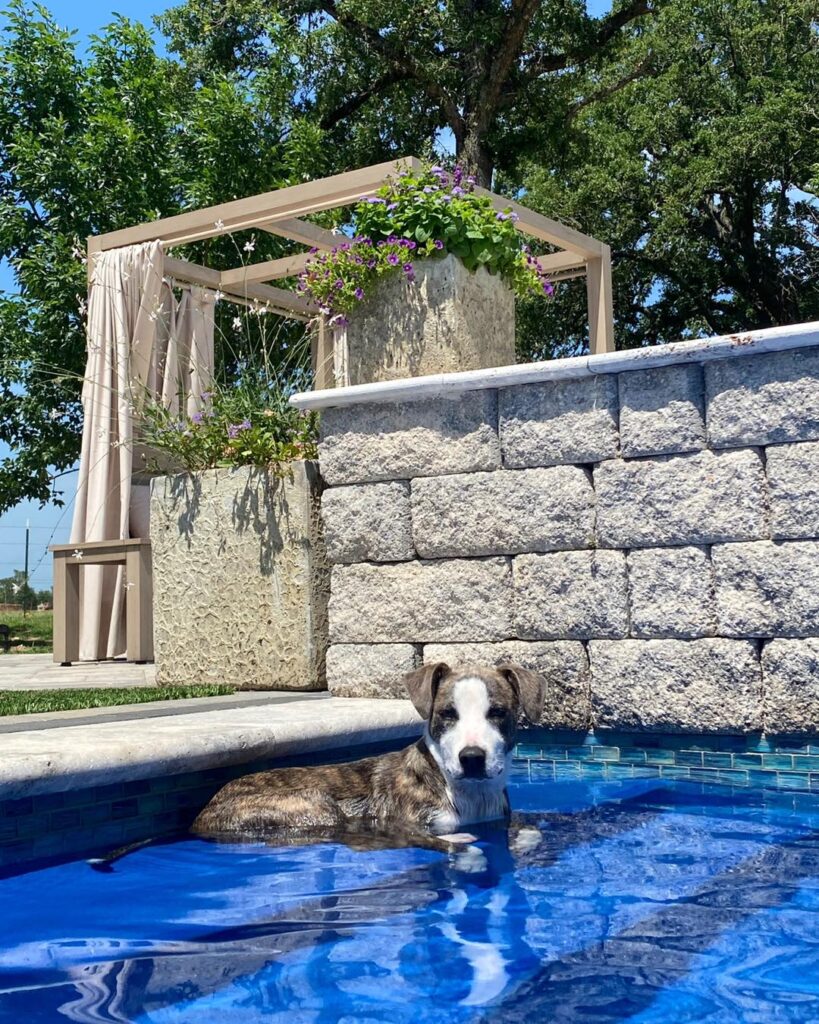 WATERLINE TILE
Waterline tile and mosaics are another fun and creative way to give your pool a personal touch. Barrier Reef is happy to install tile when your pool is built. Tile is available on steps, floors, and around the pool and spa perimeter. Be sure to ask your Barrier Reef dealer to show you the various options and layouts that are available.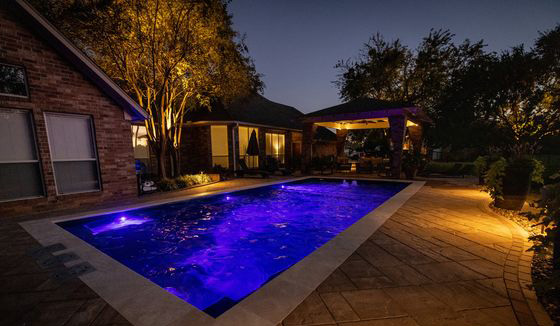 POOL LIGHTING
Lighting makes the pool look brilliant at night. There is nothing as beautiful as the sight of a glowing swimming pool lit up at night, especially combined with Barrier Reef's one-of-a-kind Shimmer color options. Lighting features are a sure way to make your pool look stunning from dusk until dawn!
If you have any questions about pool installation or preparation, please don't hesitate to contact us. At Barrier Reef Pools, we specialize in fiberglass pool manufacturing. We invite you to browse our selection of fiberglass swimming pools. We always strive to provide our customers with the perfect fiberglass pool to fit their homes and needs. Visit us online or give us a call today to learn more about our fiberglass pools.
Related Articles