CREATIVE FIBERGLASS
POOLS
Rectangular, free-form, kidney, and plunge fiberglass pools, spas and more! Barrier Reef Fiberglass Pools LLC. offers many models, features, and colors to meet even the most demanding project requirements. When looking for fiberglass pools for sale, Barrier Reef provides the best swimming pools that provide years of backyard enjoyment.
Fiberglass Pools For Relaxation
Owning your own fiberglass swimming pool is truly an amazing experience. It brings families and friends closer and provides an excellent source for relaxation as well as exercise. And it can be an excellent investment for your home.
A Barrier Reef fiberglass in-ground swimming pool incorporates the best design features and finishes available. Modern styles and lifestyle components such as tanning ledges, wrap-around seating ledges, entry and exit steps and more, will accommodate any design demands. Every swimming pool we manufacture integrates our Shimmer Finish gel coat, available in six colors to enhance the beauty of your fiberglass in-ground pool. Additionally, many of our fiberglass pool models have stairs with entry and exits at both ends.
Fiberglass In-Ground Pools
Constructed using only the most advanced gel coats and vinyl ester resins available, Barrier Reef pools are among the best swimming pools on the market, with thicknesses greater than industry standards, each one backed by our Lifetime Structural Warranty.
Why Choose an Inground Pool for Your Backyard?
One of the main reasons we know you'll love having an inground pool in your backyard is the enjoyment it can bring to your family and friends. Having a pool in your backyard is a great way to spend time with your kids and make memories that will last a lifetime. You can relax and unwind in the water, play games and have fun together. Not to mention, our inground fiberglass pools offer a great way for your kids to get all of their energy out! When you have your own inground pool, there's no need to pack up the car, and drive to the local pool every time you want to cool off. It's always there waiting for you and your loved ones to enjoy. Whether you have the afternoon off, or just 20 minutes, you can enjoy taking a dip anytime you want!
Another reason inground fiberglass pools are becoming so popular is the eye-catching appeal they can add to your backyard. A well-designed inground pool can transform your outdoor space into a backyard paradise. Not only will it serve as a functional area for recreation and relaxation, but it will also enhance the overall look and atmosphere of your home and backyard. With additional features like a built-in spa, you can enjoy a peaceful soak after a long day while surrounded by the beauty of your private oasis. A dream pool like this can truly turn your backyard into a fun and enjoyable escape from the everyday hustle and bustle of life, making it the ultimate destination for relaxation and entertainment.
Inground Fiberglass Swimming Pools Common Questions
What Makes Fiberglass Pools So Much Better?
From design to manufacturing, and delivery to installation, our fiberglass pools are a highly efficient option. The process is really quite impressive! The swimming pool structure itself is built as one single piece. Prefabricated from a factory mold in a series of layers, each new layer is fused with the next for extra strength and support. The pool shell is then reinforced with additional material to strengthen it while preserving its integrity and beauty.
The result is a strong but flexible pool body that can be shipped to the installation site as a single unit. These pools can be built in a large variety of shapes depending on the mold used, which offers a wide variety of choices to home owners. Another benefit of our unique building process is that you can easily including extras such as built-in steps, decks, and seating areas. The question isn't "Why fiberglass?", but rather, "Why not?"
How Are the Inground Fiberglass Pools Made?
Each pool begins as a mold taken from a pattern model, built to reflect the specific pool shape desired. Because of this, our pool molds can be used to create numerous pools of the same shape. From mold preparation to the final product, here are five stages of the manufacturing process to gain a better understanding of the craftsmanship that goes into creating these beautiful pools.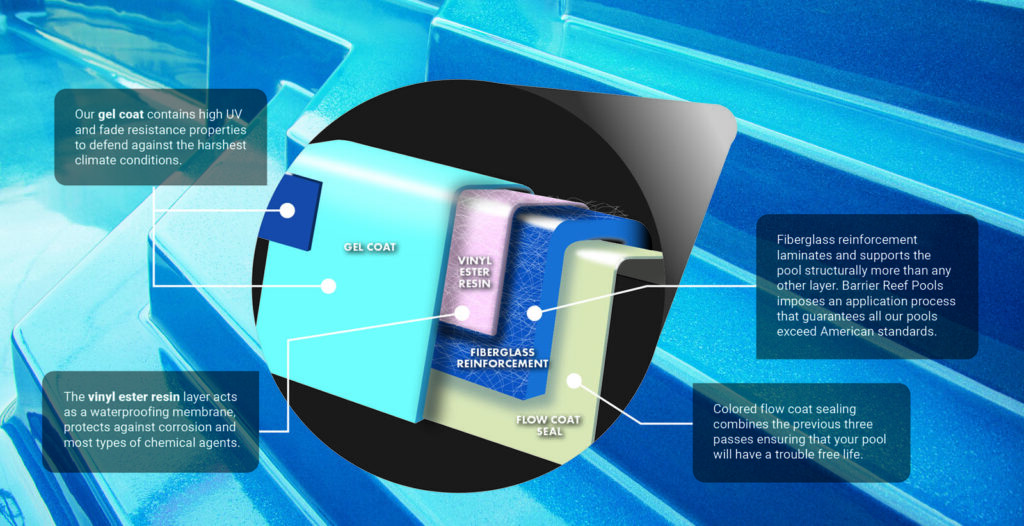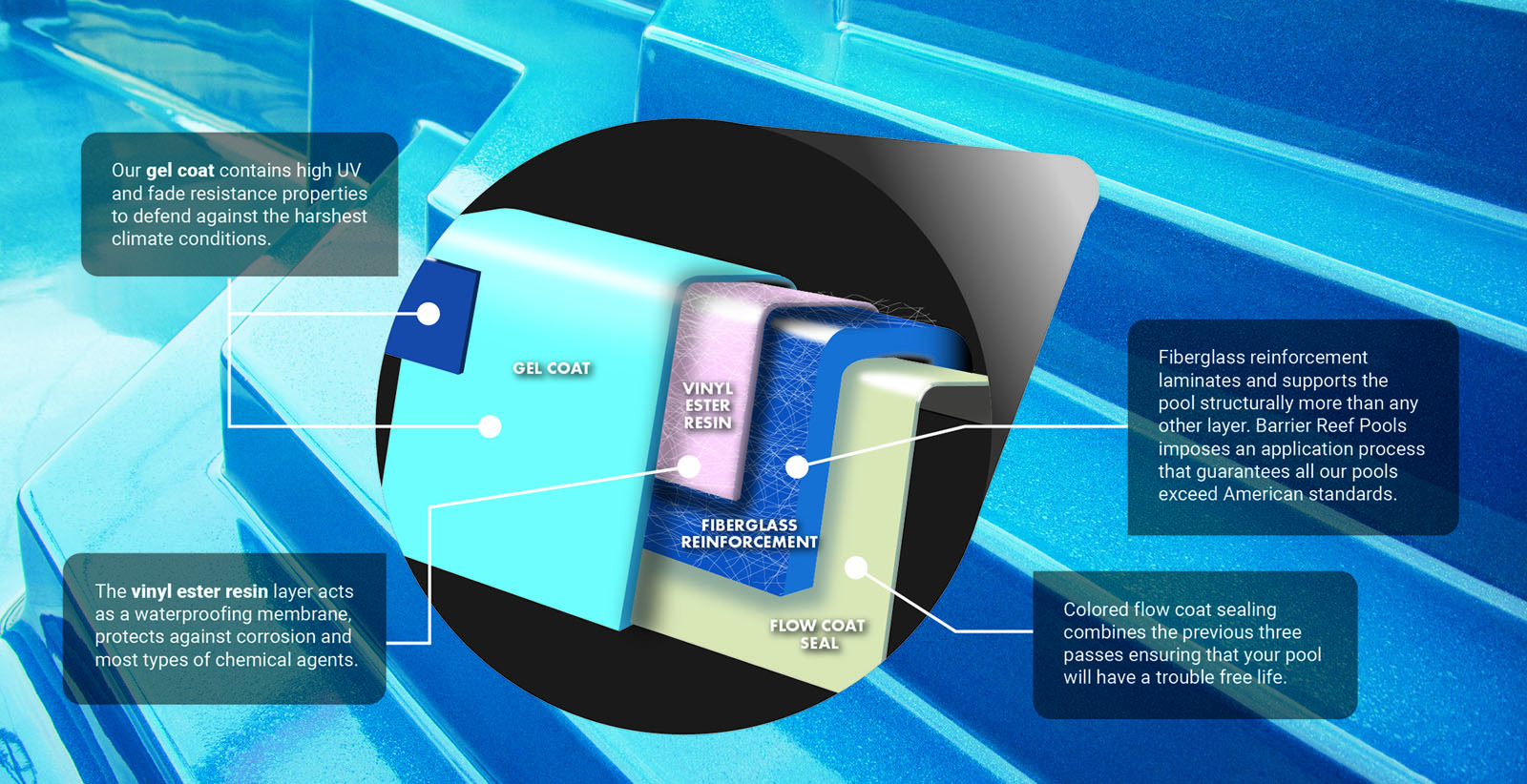 MOLD PREPARATION: Our mold preparation process follows strict standards, keeping the prepping environment clean. We meticulously clean our molds to sterilize and eliminate any imperfections and debris. Additionally, we protect our molds with plastic coverings when they are not in use.
GELCOAT APPLICATION: During this stage, three layers of gelcoat are sprayed onto the mold with a short period of curing time between each layer. Our quality control team ensures that each layer meets our rigorous standards before proceeding to the next one.
VINYL ESTER RESIN APPLICATION: The vinyl ester resin application serves as a protective layer for the gelcoat and is carefully sprayed onto the mold to waterproof the pool and increase its wall thickness. We use precise measurements to ensure accurate application for each pool size, followed by a curing process and a final quality check before proceeding to the next stage.
FIBERGLASS RE-LAMINATION: The initial layer of fiberglass is applied as a "skin," followed by a reinforcement stage, and the attachment of lifting lugs for transportation purposes.
READY FOR SHIPPING: Upon completion of each manufacturing stage, the pool is ready for shipping. Barrier Reef Fiberglass Pools LLC maintains the highest standards for fiberglass pool manufacturing and provides a manufacturer's sheet for each pool to ensure the use of correct materials.
How Is a Fiberglass Pool Different from Other Pool Types?
Since inground fiberglass pools are constructed and installed as a single sealed shell, they aren't subject to a lot of the maintenance needs of other types of pools. For example, pools with vinyl liners often need to be regularly repaired or replaced. Concrete pools require surface preparation or plastering to finish and seal the pool surface, whereas fiberglass pools arrive with their surface already finished. Additionally, due to the material of their construction, these pools are naturally flexible and far less brittle and rigid than concrete pools built in place on site.
Since fiberglass pools arrive essentially pre-built, their installation time is typically far faster and easier than it is for other types of swimming pools that must be built in place. These are just a few of the many advantages that fiberglass pools offer over other types.
Swimming Pool Choices:
Pool Shapes – Barrier Reef pools come in a variety of shapes ranging from classic rectangular pools, to free-form shapes to suit your personal style.
Sundecks – Be it rectangle pools with sundecks, or curved pools with designed seating, our sundecks provide sublime venues for enjoying the outdoors. 
Spas – Our one-piece spas are the perfect addition to any backyard pool project, and can bring your swimming experience to the height of luxury.
Pool Colors Options – Our pools come in six different colors.
Why Are Fiberglass Pools Popular?
Fiberglass pools are built in one solid piece giving them a lot of versatility. Features like stairs, sundecks, and seating areas can be designed right in as part of the initial mold design. The lack of a separate liner also means the pool won't require regular resurfacing or liner replacement. These pools are also quite easy to keep clean. This is because the smooth gelcoat surface won't harbor contaminants like a rougher surface (concrete) can.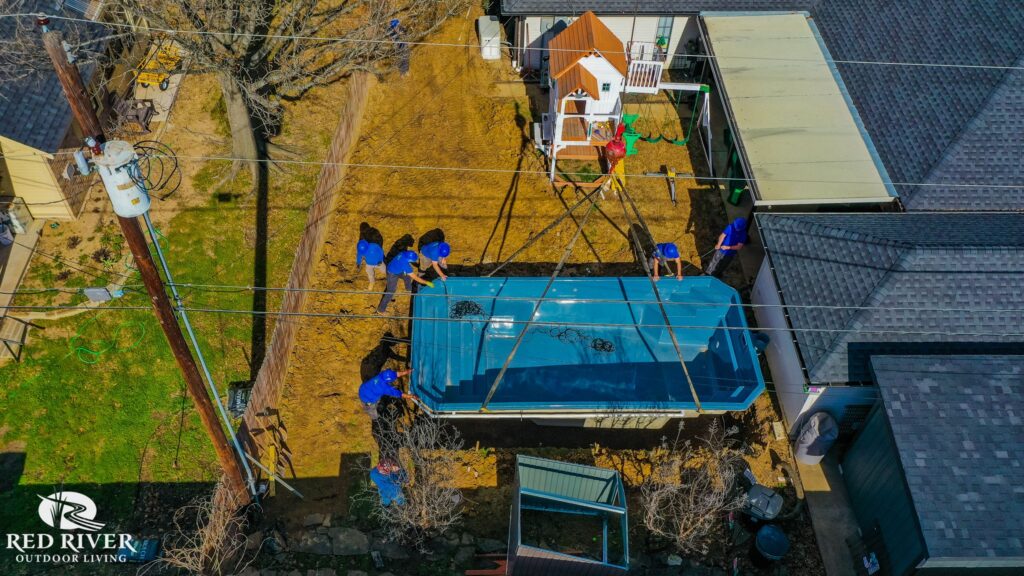 How Long Does It Take to Install a Fiberglass Pool?
Fiberglass pools typically have the shortest installation time among the different types of pools (sometimes as little as 2-6 weeks pending each job). With other kinds of in-ground swimming pools, area preparation and installation can take months and involve lengthy onsite construction to actually construct the pool in place. Since fiberglass pools arrive pre-built and ready to install, the amount of time required is drastically shorter pending ground types like soil/ground/rock. This means, you get your pool much quicker, and without any additional unnecessary construction time. No one wants to be without a backyard for long!
How Durable Are Fiberglass Pools?
Vinyl pools require separate liners that are subject to puncture damage. Concrete pools can suffer from post-installation cracking once it sets and the pool settles as the ground shifts. But, fiberglass pools are much less prone to damage, often lasting for 30 years or more!
Are Fiberglass Pools Easy to Maintain?
Fiberglass pools are famed for their longevity and durability. They are often considered virtually maintenance-free since the tough fiberglass shell is non-porous and so inherently rugged. Out of all the swimming pool options, fiberglass pools require the least amount of maintenance.
The tough, puncture-resistant waterproof gel coating on the pool shell surface prevents water or chemicals from absorption. It also helps protect against penetration or build-up of pool algae or micro-debris as long as pool chemicals used properly.
Fiberglass pools require a lot less maintenance to keep them clean and beautiful. While fiberglass pools may have a higher initial installation cost than some other pool types, fiberglass pools tend to cost significantly less over the long term thanks to the low level of maintenance involved.
Why Should I Buy a Fiberglass Pool?
A fiberglass pool is flexible and designed to withstand ground movement. They are more weather-resistant, much better suited for cold weather climates, and is easier and less expensive to keep clean. Properly cared for, a fiberglass pool will last essentially trouble-free for years to come.
Additionally, these swimming pools are faster and easier to install, giving you more time to enjoy your pool. Your new fiberglass pool will be easy to maintain and care for, significantly adding to your long-term savings. Not to mention how incredible they look! The colors stay bright and reflect the sun in interesting and beautiful ways. The finish is smooth to the touch and water stays clear and clean easily.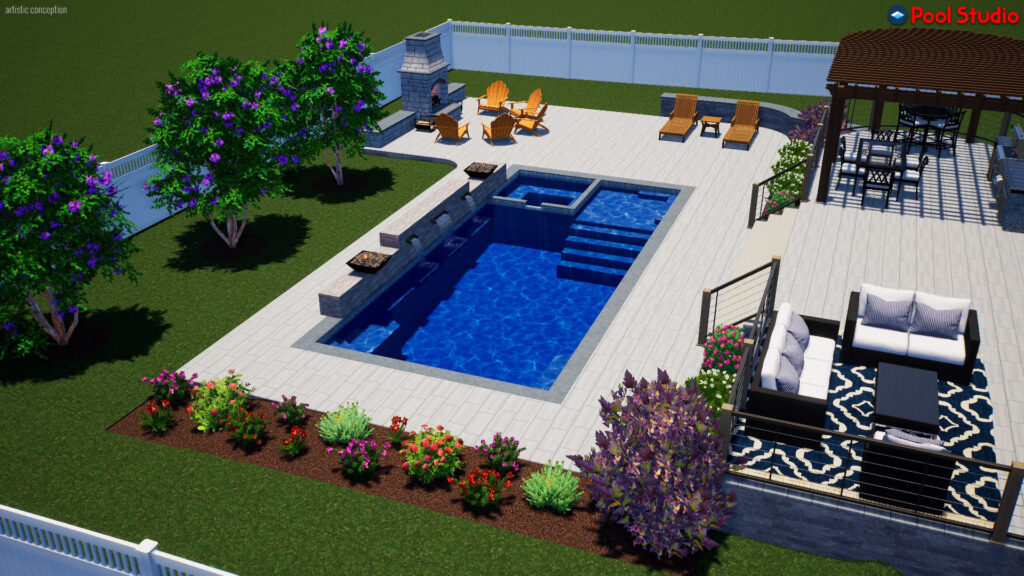 Create Your Ultimate Backyard Oasis with Barrier Reef In-ground Pools!
Perfect for families that love to add their own personal touch, an in-ground pool transforms your backyard into a blank canvas for endless possibilities of joy and relaxation. With sleek designs and top-of-the-line features, such as tanning ledges and lounge chairs, you'll have the confidence to host all your summer gatherings with ease. You will be beaming with pride when you share the details of how you designed your own swimming pool, and chose each incredible feature.
Play with your kids, soak up the sun, or simply lounge in elegant comfort.
Invest in your family's happiness and create lasting memories with an in-ground pool from Barrier Reef today!
Ready to dip your toes in your very own pool? How about taking a dip at your leisure? We invite you to browse our impressive selection of pools. If you have any questions about acquiring the perfect fiberglass swimming pool to meet your needs, contact us today!
Contact Us Today!
Barrier Reef Pools has been a leading provider of inground fiberglass swimming pools for years. Our goal is to provide you with your dream pool. A pool that will compliment your home, and meet your personal swimming needs. Visit us online or call us today to learn more about getting your fiberglass pool!
Visit our blog to answer some more questions you might have:
Measurements are approximate and not to scale. The drawings are to be used as guidelines only. All shapes, sizes, and designs are subject to change.
Color representation may not be exact. Please ask for a color chip from our pool representative for the true color.