Manufacturing Process
Our one-piece in-ground fiberglass swimming pools are constructed using only the most proven gel coats and vinyl ester resins available. This, combined with an average thickness that is greater than industry standards, allows us to produce what we believe is one of the strongest and most reliable pools available on the market.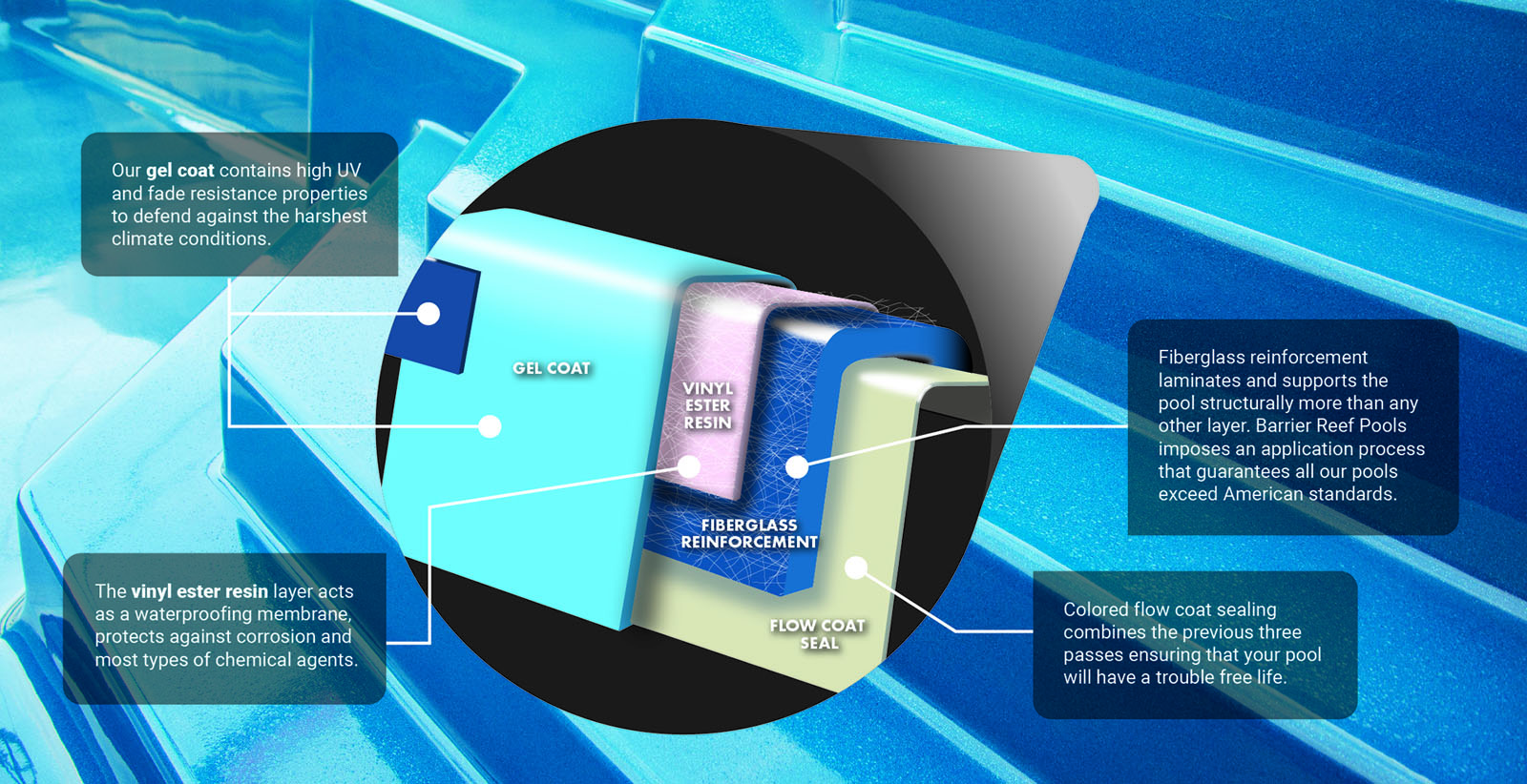 1) MOLD PREPARATION
Our mold preparation standards are much like working in an operating room. We clean our pools in a sterilized environment to ensure we remove any imperfections and debris from the mold. When not in use, our molds are protected with plastic coverings.
2) GELCOAT APPLICATION
This stage consists of three passes of gelcoat sprayed onto the mold. The mold is left for a short time between each spray, allowing it to cure. Each stage of gelcoat application must pass our stringent quality control criteria before proceeding to the next stage.
3) VINYL ESTER RESIN APPLICATION
The vinyl ester resin application helps to defend the gel coat. This layer is sprayed onto the gel-coated mold to give the pool its waterproof quality and to build up wall thickness. Precisely measured and accurately applied to match the surface area of each pool size being made. The product is then left to cure before being checked once more by quality control. It is then ready to move to the final phase of the manufacturing process.
4) FIBERGLASS RE-LAMINATION
The first layer of fiberglass is applied as a "skin". Once the skin stage has been completed, the pool then undergoes a reinforcing stage. Lifting lugs are then applied. Lifting lugs enable the pools to be lifted by crane for transportation.
5) THE POOL IS READY FOR SHIPPING
Once each stage has been completed, the build process is complete. Barrier Reef Fiberglass Pools LLC. is committed to maintaining the highest standards for manufacturing fiberglass swimming pools. Each pool has a corresponding manufacturer's sheet to ensure that the correct materials have been used in each pool.