Freeform vs Rectangular Fiberglass Pools
March 30, 2023
Choosing the Right Pool Shape For your Backyard
When it comes to deciding between a freeform vs a rectangular fiberglass pool, there are several important factors to consider. Backyard design, water activities and functionality are the main priorities we recommend focusing on. If you have been shopping through images daydreaming about your new pool already, then you probably have been either leaning towards a shape, or agonizing over this ever-important choice. Whether you are almost positive or totally uncertain, today we will help guide you on which pool shape is a better fit for your home and lifestyle. 
Backyard Design
Your backyard size, shape, and style are most likely already determined. In this case, you will be choosing your pool shape and size based on your existing backyard conditions. If you are planning a full backyard remodel, then you may have more to consider when deciding between freeform or rectangular fiberglass pools. If the pool is close to the house, then you will also want to consider the style and shape of your house, roofing, and windows as well. If the pool is farther from the house, then the shape won't make as much difference, although it still acts as an extension to the overall aesthetic of your property.
For example, if your home is more modern, then putting a freeform pool may contradict the atmosphere you're trying to create. Modern typically comes with straight lines and clean angles. If your home is more country or cottage style, then a round or freeform pool will complement the comfort and relaxed feel of your home's style. Putting a rectangular pool on a home that is more soft-featured can sometimes make it seem out of place, or harsh. You also want to consider the size and shape of your backyard to maximize the space around your pool. The best way to start is by looking through our pool picture galleries to get inspiration and ideas of what you like best, and what might work well in your yard.
Activities & Different Pool Shapes
As the names suggest, a freeform pool shape includes curves, round edges, outcoves, and interesting shapes. A rectangular pool can also have curves at the ends, but typically is very angular and simple, and utilizes straight clean lines. Freeform pools are fun for kids and families as they offer different spots to explore, and can include multiple shallow ends. Rectangular pools are the way to go if you swim laps or use the pool for exercise or sports like pool volleyball, polo, or pool basketball. They have a shallow end that graduates to a deeper end, or if preferred can be the same depth all the way. Some people prefer to have a 4 or 5-foot depth pool so their guests can enjoy the entire pool without needing to swim or tread water.
Both pool shapes freeform and rectangular can include a large or small lounge shelf, or multiple if desired. You can choose from a variety of different models with stairs and even have the pool just graduate from the ground like a sandy beach into the ocean. Often you will want to have a spa included and the spa will most likely complement the shape of the pool. This is something our team of local Barrier Reef Pools authorized dealers can help you decide on when designing your fiberglass pool project. 
Covers & Pool Safety
A very important factor to realize when deciding on the shape of your pool is what type of pool cover will be available to you. Freeform pools can't utilize automatic pool covers like a rectangular pool can. While there are still great options for covers, they will be a bit more work to use. If you have small children or pets, you may want to really consider a safety cover. The cover should be in place at all times when the pool is not in use with homes that have kids and animals. Having a pool that is easy to cover, makes it more likely you will do it.
If you have a gate or fence around the pool that keeps kids and pets out, then it isn't as urgent to cover it every day. If there are a lot of trees near your pool, a cover will help to keep it clean, but you can always give a quick skim instead if that's easier. Another benefit of using a pool cover is keeping the heat in. If you are trying to maximize the heat your pool has, then a solar cover can help. Either way, you go, freeform vs rectangular, you will want a high-quality pool cover to protect and maintain your pool in off-season months as well as on.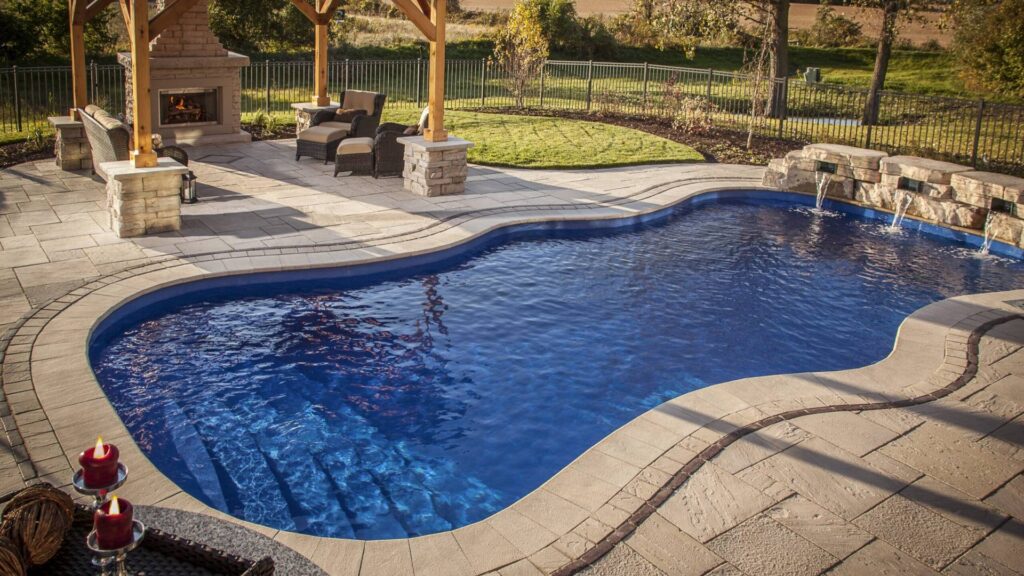 Care and Maintenance
Diving into the crystal-clear waters of a sparkling pool on a hot summer day is undoubtedly an alluring experience. While pool owners may be captivated by the organic charm of a freeform pool or the classic elegance of a rectangular one, it's crucial to understand the care and maintenance differences between these two popular styles. Freeform pools, with their unique shapes and curves, may require more attention cleaning as dirt and debris can easily accumulate in the nooks and crannies.
On the other hand, the uniform lines of a rectangular pool make automated cleaning systems like robotic cleaners more effective and efficient. Additionally, maintaining the water balance and circulation in a freeform pool may require closer attention to ensure optimal water quality throughout the various twists and turns. As a discerning pool owner, familiarizing yourself with these fundamental care and maintenance distinctions will help protect your investment and enhance the longevity of your aquatic oasis. No matter what shape your pool is, proper maintenance and cleaning are required for the greatest longevity and most enjoyable swimming experience.
How Do Freeform Pools Stack Up to Rectangular Pools?
Freeform Shaped Swimming Pools:
Pros:
Softer and visually appealing: Freeform shaped swimming pools offer a more natural and organic look compared to the straight lines of a rectangular pool. This type of pool is designed to mimic the natural shape of a pond or lagoon, making it a unique and visually attractive addition to any backyard.
More space for landscaping: Since freeform pools have a less structured design, they often leave more space for landscaping around the pool. This can provide an opportunity for more creative surround design and the addition of natural features like rocks, waterfalls, or plants.
Cons:
Less overall water surface: By forgoing straight sides, this type of pool design loses some overall pool surface area when compared to a similar-sized rectangular pool, and is less effective in an area where every square foot of water surface matters.
Harder to clean: Freeform pools often have unique shapes and curves, which may require a bit more attention.
Rectangular Swimming Pools:
Pros:
More pool surface: Utilizes every inch of available space to create the maximum pool water surface area. Ideal for any situation where space is limited and the pool must fit into an area along a fence line or other straight boundary.
Easier to clean: The straight lines and sharp corners of a rectangular pool make it easier to clean and maintain than a freeform pool. This can save you time on pool maintenance over the life of the pool.
Ideal for lap swimming: If you plan to use your pool primarily for exercise, a rectangular pool is ideal for lap swimming. The straight lines and consistent depth make it easy to swim laps without interruption.
Cons:
Esthetically simple: Rectangular pools are seen by some as being less visually appealing than freeform pools because they lack the natural curves and organic shapes found in a freeform pool. This can be especially true if the pool is not incorporated into an overall backyard design plan.
Limited artistic esthetic design: The straight lines of a rectangular pool are less fanciful and much more structured than an organic freeform design. This can limit its ability to integrate into a more naturalistic surround and outdoor landscape plan.
Ready to Get Your New Pool?
Now that you have a better understanding of some of the differences between a freeform and rectangular pool, you can start to shop with a new eye for the details that matter. Look through our pictures and options to get a better idea of how your new pool will look in your backyard. By speaking with one of our professionals, you can get all of your questions answered, and begin planning your project. Contact the team at Barrier Reef Pools today to find a local builder in your area to get started!
Related Articles