Fiberglass Swimming Pool Sales in the Pensacola Florida Region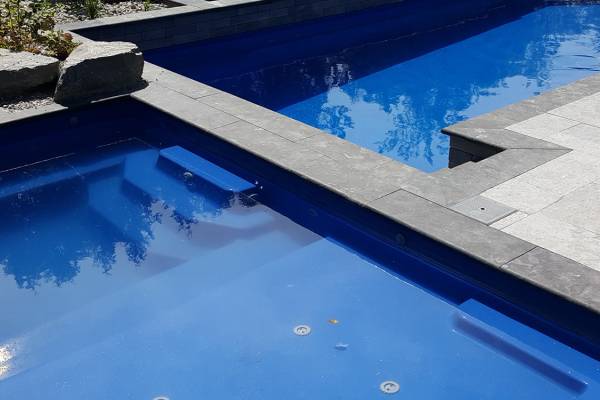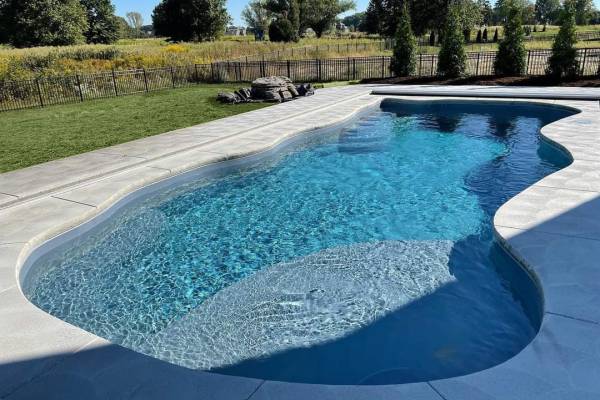 Five Fiberglass Pool Benefits in Pensacola Florida
Fiberglass or Vinyl or Concrete in Pensacola, FL
If you live in the Pensacola region and are considering investing in your own swimming pool, you most probably have encountered the difficult decision of whether to choose a fiberglass, concrete, or vinyl pool. Many people are not aware that fiberglass pool technology has advanced quite a bit, while vinyl and concrete pool technology has remained stagnant and because of this have grown less in popularity over the years.
With the increasing popularity of in-ground fiberglass pools in the Pensacola region it's important to know the reasons why. If you are considering the purchase of a fiberglass pool here are five benefits of a fiberglass pool you should be aware of.
Fiberglass Pool Benefits for the Pensacola Florida Market: Five reasons why you should invest in an in-ground fiberglass pool
1. Quick Installation
Fiberglass pools are some of the quickest and fastest types of swimming pools that you can install. Depending on the location of your home, you can have an in-ground fiberglass pool installed in as little as 3 days. Our manufacturing facility manufactures complete pool molds and the pool is delivered directly from our factory to your home. We also have local distributors throughout the US that can deliver your pool as well. Once the pool is lowered into the ground, it's already 50% complete.
On the other hand, concrete pools require no less than a couple of weeks to complete and often months. If you ever wish to remove your concrete pool, you will spend a lot of money especially if it's a large pool. With concrete pools, it's also hard to change out materials and you may experience material failure.
2. Price
In-ground fiberglass pools are generally more affordable when compared to concrete pools and over time are usually more affordable than vinyl liner pools. Of course, when it comes to concrete and vinyl liner pool installation you really rely heavily on the expertise of the installer, where as a fiberglass pool is already pre-molded to its shape.
3. Low Maintenance
One of the major drawbacks of concrete pools is that they require regular maintenance so that they continue functioning efficiently and safely. Calling in professional pool cleaners each month can be very expensive and the costs can easily run into thousands of dollars over a few years.
In-ground fiberglass pools are easy to maintain/clean and hassle-free. Our fiberglass pools have a non-porous coating that ensures that the structure is well protected from cracks and leaks.
4. Flexibility & Durability
Fiberglass pools might be considerably cheaper than concrete pools but it does not mean that they are cheaper in quality. Fiberglass pools are incredibly flexible and durable. This is the reason they are ideal even for those areas with unpredictable weather. You never have to worry about cracking due to wild and sudden temperature swings.
Concrete pools have long been touted as being the best option since they offer the most flexibility in terms of depth, shape, and size of the pool. However, our fiberglass pools offer a wide variety of shapes, sizes and colors. You won't have a problem finding the perfect size, shape, and design of fiberglass pool to meet your desires.
5. The most comfortable feeling on your feet!
Pool surfaces have a reputation for scraping feet, knees, and hands due to their rough texture. However, this is a problem you will never have to deal with if you choose an in-ground fiberglass pool. The surface of a fiberglass pool is smooth, which is great especially if you have young children or people with sensitive skin using the pool.
Final thoughts on a fiberglass pool for your family in the Pensacola region.
In-ground fiberglass pools are the best alternative to any other type of swimming pool available on the market. In the long run they are often cheaper to maintain and are relatively easy to install. In addition, they are easy to maintain, highly durable, and offer maximum flexibility, which are all major benefits to homeowners.
Taking all the fiberglass pool benefits into consideration, it's safe to say that a fiberglass pool is your best option as a homeowner looking for a quick and easy pool solution.
Fiberglass pools are the way to go in Florida. If you would like to have a swimming pool installed on your property this year, you should choose one of our pools. We incorporate the best design features and finishes available in the fiberglass pool industry. Modern styles and lifestyle components such as integrated stairs, tanning ledges and wrap around party seating will accommodate any design flavor and taste.
Our in-ground fiberglass swimming pools are available across the Pensacola, FL region. Don't worry about cost, there are plenty of options available for financing that will make your dream of having a swimming pool in your backyard a reality.
Yes, you can install a fiberglass pool indoors and keep it heated for those cozy winter nights. Yes, you can run a salt water system in a fiberglass pool. Salt water systems are efficient and can help lower the total cost of ownership over time. Yes, a fiberglass pool can be installed in a matter of weeks not months. Our swimming pools come pre-formed as one heavy duty shell ready to go into the ground. So, no complicated wall construction or concrete design. Yes a fiberglass pool is safe and fun for kids. Fiberglass pools have no rough edges and have a smooth surface. And, YES a fiberglass swimming pool by Barrier Reef Fiberglass Pools is perfect for you and your family. With financing options available and a variety of design considerations to choose from our fiberglass pools are perfect for most backyards. Get into your in-ground fiberglass swimming pool today!
Barrier Reef Fiberglass Pools
Pensacola, FL
888-457-6657
www.brpoolsusa.com
Pensacola, FL and Nearby Cities Served:
Baldwin County, Crestview Area, Ft. Walton Area, Gulf Breeze, Milton, Navarre, Pensacola – click here for more cities…
Pensacola, FL and Nearby Neighborhoods Served:
Britton Place, Oak Park, Woodland Terrace, Cordova Place, Westernmark, Sugartree, Cervello, Charelston Manor and more…
Pensacola, FL and Nearby Zip Code Served:
32501, 32502, 32503, 32514, 32505, 32526, 32507 and more…
Category:
Outdoors, Backyard, Swimming Pools, Inground, Fiberglass Pools
Pensacola, FL region fiberglass pools picture links:
In-ground Fiberglass Pools, Pensacola, Florida