In-ground fiberglass swimming pool sales in the Saint George, Utah region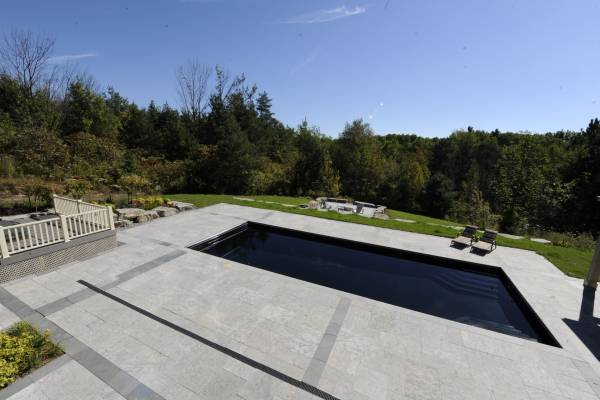 Saint George's Best In-ground Fiberglass Swimming Pools
Which is best for you and your family, a fiberglass, vinyl liner or concrete pool?
We believe it's a Barrier Reef fiberglass pool. In-ground fiberglass pools are an extremely popular swimming pool option for many reasons. Here is a breakdown of six reasons why you should choose one of our pools.
1. Costs of a fiberglass pool vs other pool types
Our Barrier Reef fiberglass swimming pools are generally less expensive when compared to concrete and vinyl liner in-ground swimming pools over the life of the pool.
Over the lifespan of a vinyl liner pool you may need a minimum of one liner change. Concrete pools need to be replastered every 7 to 10 years. These additional maintenance projects can add thousands of additional dollars to your total cost of ownership.
2. The fastest swimming pool installation
Fiberglass swimming pools can be some of the quickest types of swimming pools to have put in the ground. Depending on the location of your home, you can have a fiberglass pool installed in as little as a few weeks. When compared to vinyl and concrete swimming pools that typically require no less than a month to complete.
3. Maintenance is a breeze
When compared to other pool types, Barrier Reef fiberglass pools are easy to maintain and clean. Who wants to spend all their time maintaining the pool? When maintained properly our pools require less maintenance over time.
4. Integrated design features
Our pools offer unique design features such as integrated tanning ledges, safety rails, and wrap around seating which will accommodate any design style requirements.
5. Durable and flexible design manufacturing
Our in-ground fiberglass swimming pools are less expensive than an equivalent concrete pool but that doesn't mean that you are missing out on a high-quality product. Our swimming pools are incredibly strong and flexible and perfect for any environment.
6. Fiberglass pools are much easier on the skin
Almost everyone that has been in a concrete pool has a bad experience with the pool surface. Concrete swimming pools have a bad reputation for scratching feet, knees, and hands. With a fiberglass pool by Barrier Reef, this problem doesn't exist. The surface of our pools is smooth, which is great for everyone.
Final thoughts on the best pools on the market
Barrier Reef Fiberglass Pools are built to the highest standards and are the best choice to a concrete or vinyl liner swimming pool. Our pools offer many benefits and can be less expensive to maintain over the lifetime of the pool when compared to other pool types. When considering all the fiberglass swimming pool benefits, it's safe to say that our pools are your best option.
If you would like to have the best pool in your backyard, you should choose one of our fiberglass swimming pool models. We incorporate the best fiberglass pool designs, options and finishes available in the United States.
About Diamond Reef Pools
Diamond Reef Pools is a premier Barrier Reef pool dealer located in St George, Utah. They have years of experience building backyard dreams that can include waterfalls, rock grottos, lighted sprays, fountains, and raised spas that flow into the pool. Diamond Reef Pools has equipment packages that include saltwater systems, automated values, heaters, multiple pump/filter combinations, even an option to control your entire setup remotely from your smartphone.
Diamond Reef Pools is proud to sell and install our high-quality swimming pools. As a high-quality pool installation contractor, their team wants to meet with you to discuss and create your backyard dreams.
They have been excavating pools since 2012. As a subsidiary of DB Excavation they have the technical expertise necessary to do the job right the first time. Dennis Brown and Steve Wood have over 45 years combined experience.
Diamond Reef Pools
126 Wagon Wheel Dr.
Washington, UT 84780
435-705-1680
Diamond Reef Fiberglass Pools
St. George UT and Nearby Cities Served:
Dammeron Valley, Hurricane, Ivins, Gunlock, La Verkin, St. George, Santa Clara, Silver Reef, Toquerville, Leeds, Washington, Veyo and more…
Saint George UT and Nearby Zip Codes Served:
84780, 84770, 84771,84790, 84791, 84783, 84765, 84774 and more…
Category:
Outdoors, Backyard, Swimming Pools, Inground, Fiberglass Pools
St. George, Utah Region Fiberglass Pool Picture Links: