The Whitsunday Fiberglass Pool Model
The Whitsunday fiberglass pool is one of our most popular models. Many people have chosen the Whitsunday because of its classical look and versatile features. We have five models available in the Whitsunday line and like all Barrier Reef pools the Whitsunday comes in one of seven different color options.
The traditional Whitsunday model line includes the 40, 35 and 30 foot versions. The Whitsunday Lounger, which features a lounging ledge comes in two sizes, the 35 and 30. You will have a choice of Ocean, California, Aquamarine, Sandstone, Midnight, Evening Sky and Arctic shimmer colors.
WHITSUNDAY
| | Length | Width | Shallow | Deep |
| --- | --- | --- | --- | --- |
| Whitsunday 40 | 40' | 15' 8" | 3' 6" | 6' - 10" |
| Whitsunday 35 | 35' | 15' 8" | 3' 6" | 6' 4" |
| Whitsunday 30 | 30' | 15' 8" | 3' 6" | 6' 1" |
WHITSUNDAY 35 LOUNGER

(NEW)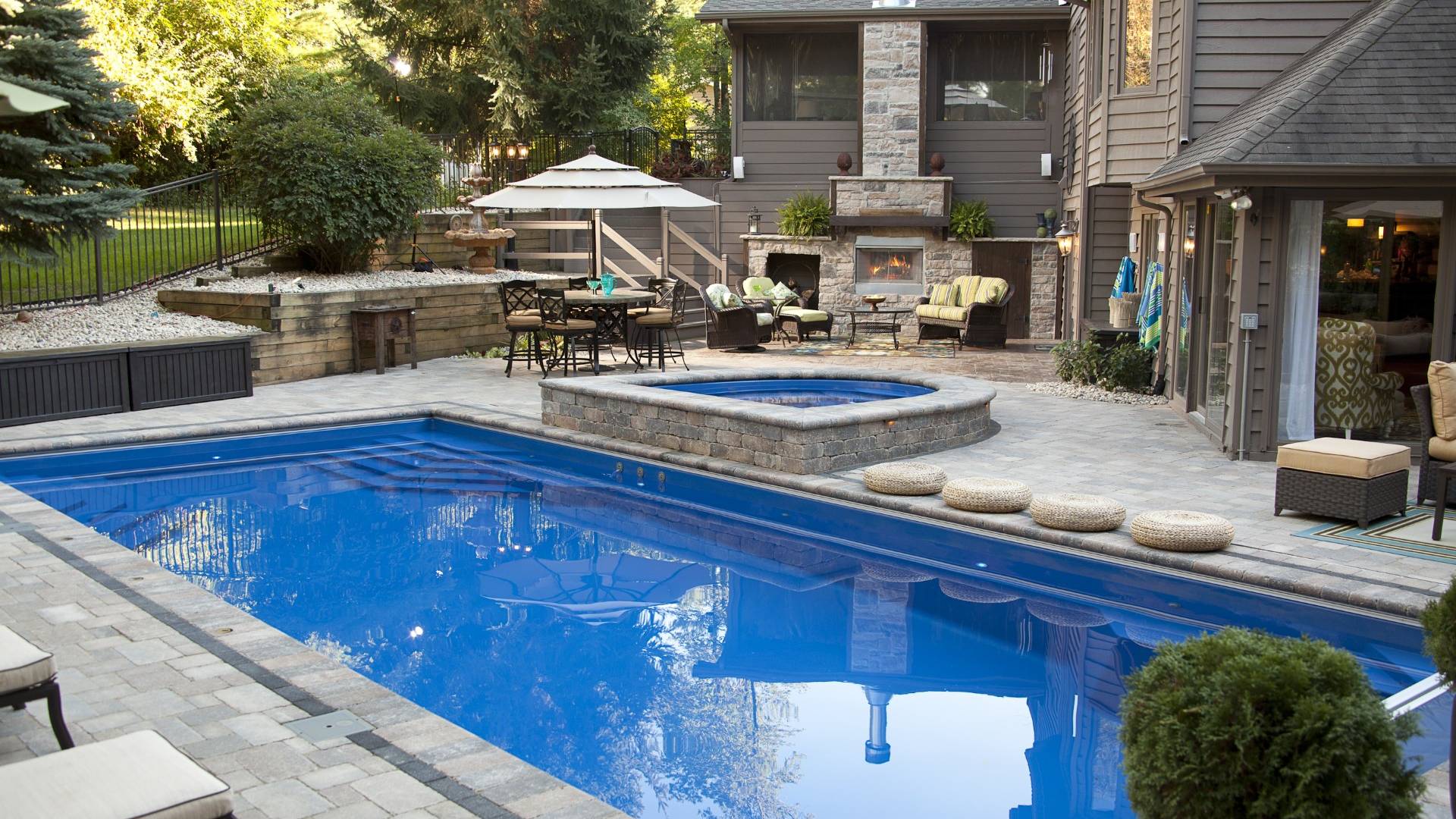 | | Length | Width | Shallow | Deep |
| --- | --- | --- | --- | --- |
| Whitsunday 35 Lounger | 35' | 15' 8" | 3' 6" | 6' 4" |
| Whitsunday 30 Lounger | 30' | 15' 8" | 3' 6" | 6' 1" |
CALL NOW

1-888-457-6657

OUR EXPERT STAFF IS STANDING BY TO ANSWER YOUR QUESTIONS.
The Whitsunday is a rectangular pool that offers many great features. As you enter the pool in the shallow end there is a grand entry of stairs that welcomes you. The stairs are wide enough to accommodate any visitor and there is a safety ledge around the perimeter of the pool for additional safety.
The Whitsunday is a perfect pool for having fun, relaxing, exercising and pool games. Who doesn't love spending time with family and friends poolside? Kids, adults and even animals enjoy splashing around in the pool. A fiberglass pool is also a great place to relax and unwind. The day's stress fades away when you are poolside. The Whitsunday has a great layout for swimming laps or other pool training needs, which is great for maximizing health benefits. Along with lots of fun pool games, it's easy to add a basketball hoop or a volleyball net, which makes gaming more enjoyable in a Whitsunday pool.
Installation of the Whitsunday is a relatively straight forward process and requires little time for a complete install. The shell will arrive in one piece, pre-molded and ready to go in the ground. In most cases, it's the add-on features such as fire pits, water features, hardscaping and more that can extend the time-frame for a completed project.
Where does the Whitsunday name come from?
In the heart of the Great Barrier Reef are the Whitsunday Islands. The Whitsundays are made up of 74 island wonders along the coastline of Queensland, Australia. The Whitsundays is a region of Australia filled with stunning beaches and secluded bays, spread majestically throughout the Coral Sea.
What are the main features of a Whitsunday fiberglass pool?
Like all our fiberglass pools the Whitsunday offers a luxurious feel to the skin, unlike other pool types such as Gunite or shotcrete pools.
The Whitsunday offers 360-degree access into the pool. This is convenient because you have multiple orientation options for your backyard. And, with three size options for the Whitsunday and two for the Lounger this pool model is an ideal choice for most backyard layouts.
The swim lane for the Whitsunday is nice and wide which is suited for games, larger groups and swimming laps for exercise benefits.
The entry and exit stairs are located on both sides of the shallow end and provide easy access in and out of the pool.
The deep end of the pool offers sitting ledges with a swim out for accessing the swim lane.
The Whitsunday is the perfect option for connecting spas and sun decks. Barrier Reef Fiberglass Pools also manufactures spas and sun decks which are a perfect addition and fit to any Whitsunday model. Having a spa takes your backyard livingspace to a whole new level and we have a convenient option to match any lifestyle.
The classic form of the Whitsunday fiberglass pool makes it a perfect pool for add on accessories such as automatic covers and salt water generation systems.
A rectangular footprint offers the maximization of your pool space. The Whitsunday is perfect for any backyard and with multiple sizes and colors available the choice is simple. Contact our team of professionals to learn more about our Whitsunday fiberglass pool.
Reserve Your Whitsunday Today!
WHITSUNDAY FIBERGLASS SWIMMING POOL IMAGES