In-ground fiberglass swimming pool sales in the Jacksonville, Florida region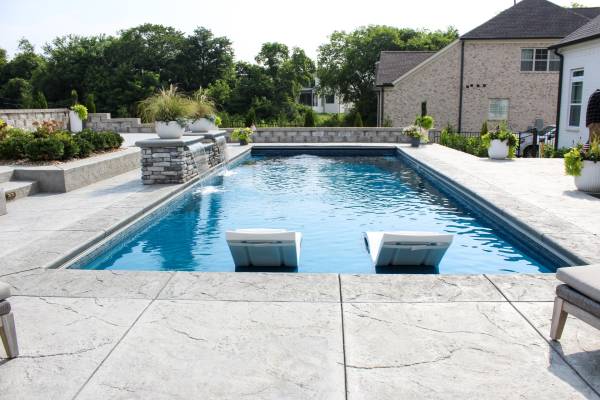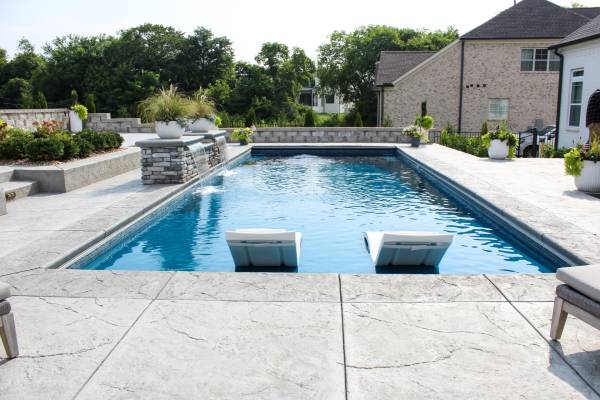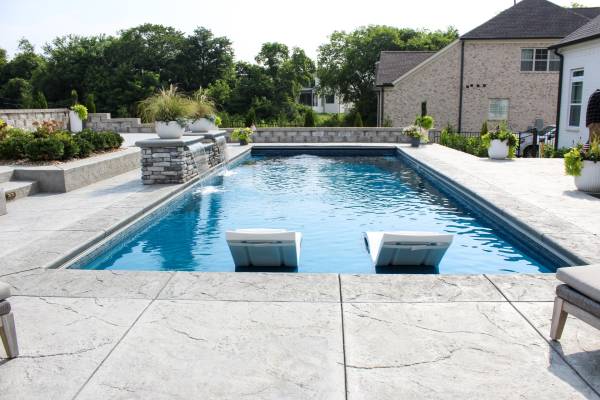 A Fiberglass or Vinyl or Concrete Pool in Jacksonville, FL?
If you live nearby or in the Jacksonville market and you want a swimming pool installed in your backyard, you have probably encountered the difficult decision of whether to buy a fiberglass, concrete, or vinyl liner swimming pool.
In-ground fiberglass pools have become extremely popular in the Jacksonville Florida area and it's important to know a few reasons why. When you are considering which pool type to build you should consider these five benefits of a fiberglass pool.
Fiberglass Pool Benefits for the Jacksonville Florida Market
Quick Installation
Fiberglass pools can be some of the quickest types of pool to have installed. Depending on the location of your home, you can have an in-ground fiberglass pool installed in as little as 3 days. When compared to concrete and vinyl liner pools they typically require no less than a couple of weeks to complete and often months.
Price
Our Barrier Reef fiberglass pools are generally more affordable when compared to concrete and vinyl liner pools over the life of the pool when compared to concrete and vinyl liner pool installations.
Low Maintenance
When compared to concrete and vinyl liner swimming pools our fiberglass pools are easy to maintain and clean, giving you years of hassle-free pool maintenance.
Flexibility & Durability
Fiberglass pools, in most cases, are less expensive than concrete pools but that doesn't mean that you are losing out on quality. Our fiberglass pools are incredibly flexible and durable. This is one of the main reasons our pools are perfect for areas with unpredictable weather.
Comfortable Features
Concrete swimming pool surfaces have a reputation for scraping feet, knees, and hands. With a Barrier Reef fiberglass pool, this problem will be a thing of the past! The surface of our fiberglass pools is smooth, which is great for children or people with sensitive skin.
Final thoughts on a fiberglass pool for your family in the Jacksonville
In-ground fiberglass pools are the best alternative to any other type of swimming pool. In the long run they can be cheaper to maintain and they are easy to install.
Taking all the fiberglass pool benefits into consideration, it's safe to say that a Barrier Reef fiberglass pool is your best option as a homeowner.
Fiberglass pools are the way to go in the state of Florida. If you would like to have a swimming pool installed in your backyard or even indoors, you should choose one of our fiberglass pool models. We incorporate the best fiberglass pool design features, options and finishes.
Our pools offer modern styles and components such as integrated stairs, tanning ledges and wrap around party seating will accommodate any design requirements.
Our in-ground fiberglass swimming pools are available across the Jacksonville, FL region. Don't worry about cost, there are plenty of options available for financing.
Need More Reasons to Say Yes to Fiberglass?
Yes, you can install a fiberglass pool indoors and keep it heated for those cozy winter nights.
Yes, you can run a salt water system in a fiberglass pool. Salt water systems are efficient and can help lower the total cost of ownership over time.
Yes, a fiberglass pool can be installed in a matter of weeks not months. Our swimming pools come pre-formed as one heavy duty shell ready to go into the ground. So, no complicated wall construction or concrete design.
Yes a fiberglass pool is safe and fun for kids. Fiberglass pools have no rough edges and have a smooth surface.
And, YES a fiberglass swimming pool by Barrier Reef Fiberglass Pools is perfect for you and your family. With financing options available and a variety of design considerations to choose from our fiberglass pools are perfect for most backyards. Get into your in-ground fiberglass swimming pool today!
11290 St Johns Industrial Pkwy N.
Jacksonville, FL 32246
Phone: 904-514-4357
http://jacksonville-fl.brpoolsusa.com/
Jacksonville, Florida Fiberglass Sales and Other Nearby Cities Served:
Atlantic Beach, Amelia Island, Baldwin, Callahan, Fernandina Beach, Fleming Island, Fruit Cov, Jacksonville Beach, Middleburg, Neptune Beach, O'Neil, Oceanway, Palm Valley, Ponte Vedra Beach, Saint Augustine, Sawgrass, St Johns, St Marys, Yulee and more…
Jacksonville and Nearby Zip Codes Served:
32068, 32043, 32073, 32065, 32259, 32082, 32003, 32266, 32009, 32256, 32226, 32322, 32225 and more…
Nearby States Served:
Georgia, Alabama and Mississippi
Category:
Outdoors, Backyard, Swimming Pools, Inground, Fiberglass Pools
Jacksonville Florida Region Fiberglass Pool Picture Links:
In-ground Fiberglass Pools, Jacksonville, Florida